Post by Seimei D Cipher on May 5, 2010 14:06:55 GMT -5
SEIMEI D CIPHER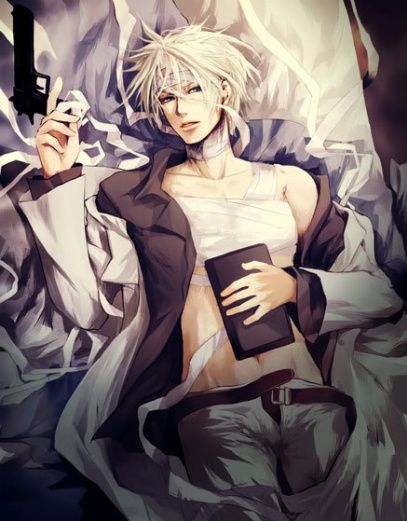 [/size]
- * - * - * - * - * -
&&--You, who shall pull the strings
[/size][/center]
Name: Kizzy
Age:
Old enough to know better, young enough to still enjoy it. =3 [so 19]
Roleplaying Experience: 8 years now =]
How you found the site: Proboards
- * - * - * - * - * -
&&--The character cheat sheet
[/size][/center]
Name: Seimei D Cipher, goes by Sei, or Sage to friends, though some call him Cipher.
Gender: Male
Age: Twenty-Four
Hair Color: Blond
Eye Color: Ice Blue
Skin Tone: Pale
Height: Five foot, eight inches
Weight: One hundred thirty six pounds.
Wealth: His family is well off, he's average.
Sexual Orientation: Gay
Why they are in La Campana: After an unfortunate incident at the last school he taught at, he decided to move far away from that place. After some research he discovered La Campana and applied there.[/size]
- * - * - * - * - * -
&&--What makes the clock tick
[/size][/center]
Likes:
[/i] He loves playing the piano, and Cello. Seimei is very skilled musically, since he has been playing from a very young age.
o
Animals.
Sei is a sucker for all things cute and cuddly, he frequently takes in strays.
o
Men.
While Sei has pretty much always acknowledged that he is gay, he has actually only ever dated one man, and remains fairly untouched.
o
Life.
Seimei likes living, he loves enjoying the little things, which is what is keeping him from having a necessary surgery that could save his life.
o
Go/Chess.
He loves games of wit and strategy, few can beat him in these games of intelligence since he has been playing for a while, but he always enjoys a good challenge.
o
Movies.
Sei loves to watch movies, to see the things he could never do because of his heart.
o
Silence.
Seimei can appreciate silence, since he finds it just as utterly relaxing as music.
o
Night.
He loves the pure feeling of the cool night air on his skin, and he loves to gaze up at the stars above.
o
School.
He loves teaching at the school, and is pretty easy going, students tend to like him since he does his best to make sure his students enjoy his class.
o
Languages.
He loves to learn new ones, and already speaks several, ranging from his native tongues of Portuguese and Russian to several others he's taken the time to learn, including Japanese, Spanish, Italian, Latin, French and German [not fluently of course], and his English.... leaves a great deal to be desired.
o
Rain.
He both loves and dreads it, he enjoys standing out in the rain, feeling it soak his clothes. But he tends to get sick in the rain far too easily.
o
Sweets.
He is a sucker for anything sweet, chocolate, cakes, etc, want to win him over? Give him something insanely sweet.
o
Tea.
Sei takes time each day to enjoy a well brewed cup of tea… with an insane amount of sugar in it.
o
Flowers.
He finds something elegantly beautiful and fragile in flowers, and usually has some in his home and classroom.
o
Plants.
Sei has quite the knack for growing plants, and often smells like Sage, one of the plants he is the most successful at growing, which has earned him the nickname Sage by many of his friends.
o
Domestic tasks.
Seimei loves doing domestic tasks like cooking, cleaning, and gardening, somehow it puts him in a cheery mood.
o
Love.
He is a romantic soul, the simplest of gestures will cause him to beam and get flustered.
o
Art.
Any kind that speaks to him he'll simply adore.
o
Poetry.
That kind of goes hand in hand with the romantic side of him.
o
Science.
He loves all aspects of science, the discovery of new things, but of all Chemistry is his favorite, hense why he teaches it.
o
Books.
Something about the scent of old books makes him happy, Sei loves to sit and read books for hours.
[/ul]
Dislikes:
[/i] He's been spending a lot of time in hospitals since he was a child, and holds no fondness for them.
o
His Doctor.
Lately his doctor has been encouraging him to get a surgery done that has fifty-fifty shot of survival, but would allow him to do many of the things he currently can not do. Sei would rather not risk the two and a half years he has left.
o
Time.
He hates time, it's constantly reminding him of how little time he has left in life and it tends to make him feel rather anxious.
o
Heat.
It makes him dizzy and light-headed, and he is prone to collapsing if he spends too much time out in the heat.
o
Rain.
Makes him far to prone to getting sick.
o
Disrespect.
He's not a strict teacher by any means but he will not tolerate students disrespecting him, other teachers or other students.
o
Cars.
He refuses to drive anywhere, since cars freak him out. His father died in a car accident when he was five years old.
o
Arrogance.
Pisses him off more than a little bit, he doesn't mind a bit of cockiness, but extreme arrogance is just annoying.
o
Meat.
He will not eat the flesh of other creatures, that bothers him. Plus not eating it, is healthier for his heart.
o
Family.
Well, more specifically his family, they aren't exactly on speaking terms, since he turned out to be such a disappointment.
o
Fighting.
He dislikes fighting, physical or verbal, simple as that.
o
Terrible music.
Seimei is one for the classics, he can even appreciate some modern musics, but music like rap and similar genres cause him to cringe.
o
Loud noises.
He hates loud noises, since they tend to startle him.
o
Unnecessary Drama.
A little drama can be good for the soul and can make life more interesting, but there is a line that needs to be drawn, and too much drama is just annoying.
[/ul]
Turn Ons:
[/i], he tends to be very tentative and shy, easily flustered, so he likes someone who can easily take the lead.
o
Affection and Attention
, he's by not clingy by any means, but he enjoys attention from the one he's supposed to be with..
o
Romance
, he enjoys someone who can do something sweet on occasion that sweeps him off his feet.
o
A balance of pain and pleasure
, the right balance can do wonders, biting and the like are particularly his favorite, he might even admit to some other slight kinks if comfortable.
o
Intelligence.
He likes someone who can keep up with him intellectually, at least a little bit.
o
Being 'petted'
, oddly enough he likes this a great, and will practically purr like a kitten.
o
Personality wise
, he has no preferences as long as the person is true to themselves.
[/ul]
Turn Offs:
[/i], he's dealt with one of these people before and never wants to again.
o
Jealousy
, he wants to be wanted but he doesn't want to deal with a jealous prick.
o
Prudes
, he's by no means a sexual deviant but he does enjoy trying new things out, he cant deal with someone who isn't willing to at least try something out once.
o
Manipulation
, he's smart, and getting manipulated just annoys the hell out of him, and makes him feel horrible.
o
Narrow minded, ignorant, uptight fools tend to rub him the wrong way.
[/ul]
Nervous Habits:
Fears:
Goals/Aspirations:
[/s]
o To eventually [maybe] go through the surgery.
o To eventually master all the languages he's been studying.
[/ul]
Appearance:
Personality:
[/size][/font]
- * - * - * - * - * -
&&--A glimpse of the past
[/size][/center]
Father: Erik Cipher
Mother: Lynda Cipher
Sibling/s: Wlliam Cipher // 28 // Eldest Brother
Jonathan Cipher // 26 // Second Oldest Brother
Axel Cipher // 18 // Youngest Brother [twin]
Sydney Cipher // 18 // Youngest Sister [twin]
Other important relatives: None.
Pets:
History:
Roleplaying Sample:
[/quote][/ul]
[/font][/size]