Post by Shiloh Webb on Apr 19, 2010 9:59:49 GMT -5
SHILOH LAURENT WEBB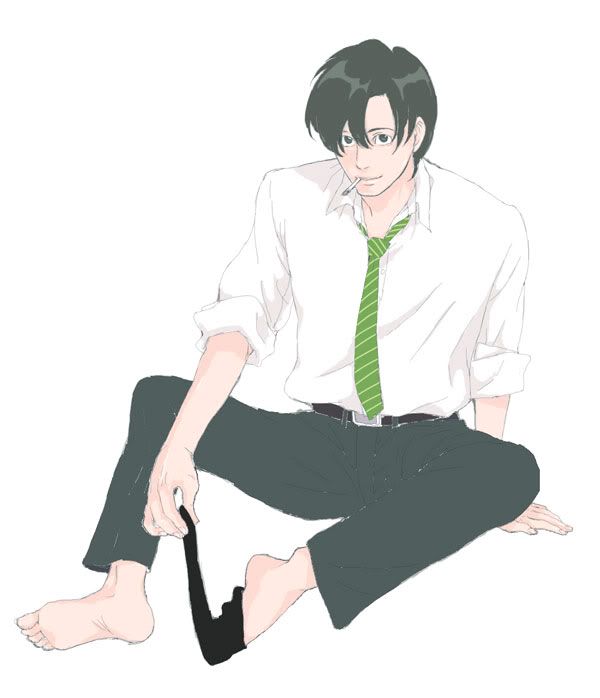 [/size]
- * - * - * - * - * -
&&--You, who shall pull the strings
[/size][/center]
Name: Just call me Shiloh or Alfred.
Age: Seventeen years young
Roleplaying Experience: Five or six. Hell if I know.
How you found the site: I'm also applying for Alfred Jones at the moment. I just thought I'd be nice to actually have a character I can role play while I finish his app. I always take forever to write apps for canon characters. XP
- * - * - * - * - * -
&&--The character cheat sheet
[/size][/center]
Name: Shiloh Laurent Webb
Gender: Male
Age: 31 years
Hair Color: Inky black
Eye Color: Dark brown, almost black
Skin Tone: Pale Caucasian
Height: 5'8"
Weight: 140 lbs
Wealth: Average
Sexual Orientation: Closeted homosexual
Why they are in La Campana: After a very brutal divorce from his wife, they both agreed that it was best that they go their separate ways. Shiloh always did want to travel, but never found the motivation, so he moved out to Barcelona. There were too many memories in taking another job at a rehab clinic, so he earned himself a degree in teaching and took a job at La Campana teaching the elective of psychology. He has hopes that the school's purpose will help him to find a final conclusion about himself and his sexuality.[/size]
- * - * - * - * - * -
&&--What makes the clock tick
[/size][/center]
Likes: Feel-good music
Singing to himself
Being a goof ball
Pleasing people
Refusing to be serious
Joking around
Smiles
Hats
Chickens
Attracting attention to himself
Making faces
Secrets
God
Psychology
Jason Mraz
Twilight (And he's not ashamed of it)
Crowded rooms
Peanuts, sunflower seeds, cashews, etc.
Dislikes: Sore losers
Getting in trouble
Making people upset or angry
Disappointment
Rejection
Strawberry anything
Scream-o, emo, no self-esteem-o music
Whispering
Soft noises
Drugs or alcohol
Smoking
Not being able to see his daughter
Being alone
Thinking too much
Himself
Turn Ons: Beautiful smile
Comforting, warm voice
Talented hands (If you know what I mean)
Great sense of humor
Neediness ("The feeling that he needs you desperately and is afraid that if he lets you go, he'll loose you. Yeah, that's it. What? No, I'm not reflecting,")
Turn Offs: Sour attitude
Drugs, smoking, or alcohol (Too many years working in a rehab clinic will do that to you.)
Weepy
Too rough or pushy
Meanness
Nervous Habits: Shiloh absolutely hates being left to himself. In a way, he always wants a distraction or some sort of attention. Therefore, if he starts to feel that he's been left to himself too long, he'll make a scene. Not a big one, but one none the less. He's been known to dance to elevator music or intentionally run into walls to draw attention and make people smile.
Shiloh must've been a musician in another lifetime, because music is his one true love. When he's walking around or listening to his Ipod, he'll start singing to himself. Luckily for him he has a nice voice, but he doesn't even realize he's doing it. When he doesn't sing, he's either humming or whistling.
The only time Shiloh will be serious is in the case of an emergency. Otherwise, he will do his best to defuse a tense situation by cracking a joke or doing something silly. He just wants to make people happy.
Fears: Never coming to terms with himself
Never finding happiness
Never finding true love
Not being there for his daughter
Going to hell
Goals/Aspirations: Coming to terms with himself
Actually loving himself for who he is
Seeing his daughter happy and successful
Making the people around him happy
Falling in love
Appearance: Shiloh is the poster child for the average joe when it comes to his uncontrollable features. His height's average, his weight's average, and it always tends to show. He's lucky enough to have this quality, since it tends to make him look more like a young twenty rather than pushing thirty. In fact, he's rather fond of that quality. As with most men, his hands and feet are rather large in size, but seeing how this guy talks with his hands a lot, this factor is a little more noticeable than usual. His arms aren't thick with muscle, but neither are they unpleasantly bony. With a thick neck and a somewhat rounded face, he does often come across as rather cute. Shiloh's dark brown, almost black eyes are usually bright and round with enthusiasm, whether it be true or another act.
Hair wise, Shiloh has a typical style that just seems to work for him. Rather than get a normal close-cut look that most teachers seem fond of, his hair could be described as almost shaggy. His bangs are cut straight and are pushed to the side, framing his face and falling by his cheek bones. Most of the time it really doesn't matter what he does with it anyway. He's obsessed with hats. Whenever he's not working, he has one on. Ball caps, anything, he'll wear it. He says it gives him character.
The clothes on his back vary from time to time. The only thing you can be certain with is a hat and baggy jeans. The shirts are the more random ones. Graphic tees are one of his favorite styles, but sometimes he'll find a button-up shirt more suitable. If he is wearing a graphic tee, expect it to be either a band shirt or something silly. His favorite recently has been a pink t-shirt with "GEEK" written in bold letters across the chest. While he's working, he'll willingly put on a jacket-coat. It makes him feel important.
Personality: On the outside, Shiloh Webb is just one massive ball of sunshine. He'll do whatever he feels like and will say whatever comes to mind, that is as long as the listener will appreciate it. He's a people-person all around and loves to entertain. To him, a day wasted is a day without laughter. Whenever there's someone being miserable, he'll simply to whatever he has to to force out a grin or at least a smirk. Face making, joke telling, and basically being a goof ball are his specialties. The good nature is also often contagious. Ask any of his friends and they'll tell you that it's impossible not to be pleased by him. Even if he isn't focusing on you, he'll get your attention. If he ever gets bored or lonely, he'll make a scene. Shiloh's been known to dance to elevator music and run into walls on purpose, just to attract a few interested glances. It's pretty obvious to say that he firmly believes that the worst company is your own.
So, it's pretty strange that he worked in psychiatrics where all of the screwed up people are. No one really knows why he choose to work there. At least he did a good job of it. He's been known to have treated his patients just like any other sane human being, even if it means carrying on a conversation by himself. Don't get me wrong, he will buckle down and work if he must. It's just a bit hard for him, that's all. The only time he'll fully commit though is in an emergency. It's even been a recent joke that any other time, Shiloh has ADD. Of course, it's not true, but it seems like it.
Women tend to love Shiloh. He's a good friend, he's caring, and doesn't seem to care about what other people think. He knows how to work the ladies too, which isn't too helpful when your a closeted homosexual. There once was a time that he was so far in the closet, he was finding Christmas presents. Now, he's trying to accept himself for what he is, but past experiences are leaving him helpless to his personality.
You see, deep down, Shiloh is miserable with himself. He puts on the sunny mask because it's easier to play the fool than to cope with reality. The way he was raised forces upon him a sad feeling of shame for his sexual preferences and the loss of his wife and daughter don't exactly make things better. So, he rather pretend to be someone else because he hates who he is. Hence why he never wants to be alone with his thoughts. He's attempted to accept himself, but it just keeps getting harder and harder. And since no one knows his turmoil, no one's able to help him.
Another downfall of Shiloh is his constant need to impress and please people. There is nothing he hates more than to see someone upset or angry because of him. Because of this, he's sometimes fickle with his beliefs. He'll go to foolish lengths to see someone happy with him. Even if he knows it's wrong, he's still afraid of the results of letting someone down. His idiotic loyalty commonly reminds people of a lost puppy.
[/font]
- * - * - * - * - * -
&&--A glimpse of the past
[/size][/center]
Father: Unknown
Mother: Martha Webb, 48 yrs.
Sibling/s: N/A
Other important relatives: Delilah Mason (Wife, Divorced)
Emma Webb (Daughter, newborn)
Pets: Riley Jo. Shiloh's fat cat is a fluffy black mass of spoiled fur. He caters to her every need, which makes her the type of cat to walk all over you. Also, she's strictly an indoor cat.
History: Shiloh Webb was born to a single mother in 1979. The woman was only sixteen years old when she birthed her first son, and was instantly abandoned by the boy's father. Her parents were even less help, for they felt so ashamed of her that they threw her and the infant out to live on their own. Crushed and desperate, she turned to religion for a glimmer of hope. At a time such as that, she truly needed at least something to believe in.
For the next twenty years, she raised her son with some difficulty, but managed to prevail. Her boy never learned of even his father's name, but that never seemed to matter with him. Young Shiloh was accustomed to his way of life and was pleased with it, even if food was slim sometimes and his mother forced her desperate faith down his throat. As much as she loved her son, she always felt the burden of her mistake. She felt that if she had only conformed to what was expected of her, she'd still have a cozy lifestyle with her parents and maybe even be married. Never wanting such shame to befall her boy, she instantly began to push her feelings upon him. She wanted him to follow the path God wanted for him so he could live the best life he could. Shiloh listened and understood as much as he could.
Upon his years in high school, Shiloh became confused with himself. He began to have feelings for a male student that shared many classes with him. Unsure of what this meant, he tried to act upon his impulses and discover the meaning. Once the other young man caught on to Shiloh's feelings, he actually returned them and the two became a couple. But Shiloh was confused. Were they actually dating? Aren't I supposed to be doing this with a girl? However, it just felt right. It felt normal. That is, until his mother found out and nearly sent her son packing into the streets.
That was the last thing Shiloh wanted to happen. Sharing in his mother's shame for himself, he quickly cut off the perfectly happy relationship. To please his mother, he forced himself to go against what he wanted. Girlfriend after girlfriend came and went, none of which ever feeling right. But Mother was happy. That's all that matters, right? Eventually, her denial spread into him.
Shiloh went to college for a degree in psychology after graduating from high school. Throughout those entire years, he found time to date a young woman named Delilah. By now he had quite a way of hiding himself and quite a way with women, so needless to say at least one of the pair fell in love. And, to further please his mother and to please Delilah, the two were married a year after he graduated. It was the ultimate cover, and everyone was happy, right? Wrong.
Shiloh was then never more miserable in his life. Yes, he loved Delilah, but not the way that would drive someone to marriage. However, his deep care for her as a dear friend and now husband drove him to make his life a prison in order to see her happy. He didn't have the heart to hurt her.
Time went on and Shiloh sunk deeper into depression. Then, he fell in love with a young male nurse that the rehab center where he worked at that time had just hired. Every voice in his head told him no, but his bleeding heart demanded some happiness, at least for a while. And so it was that Shiloh began his affair. And during the times the pair had together, he never felt a single touch of shame or guilt.
All good things however must come to an end. Delilah eventually discovered her husband's true desires and was instantly crushed. For the longest while, she never told Shiloh she knew about him and the nurse, for she feared the separation from the man that had made her so happy. But now she knew that that man was merely a cover and he could never love her the way she wanted to be loved. So, she confronted Shiloh and they next day they went together to file for divorce. To this day, the two both understand that they split not because Shiloh was gay, but simply because he was having an affair, whether it was with a man or a woman.
About a week after that day, Delilah discovered that she was pregnant. At that point, Shiloh could barely take it anymore. Now accepting himself more than he ever had before, he moved a good distance away from his ex and daughter to allow all of them to begin a new life, a life that they deserve. The pair only just began to stay in contact with one another, thanks to the birth of their daughter, Emma Webb. Shiloh himself, who had always wanted to travel, moved to Barcelona after earning himself a teaching degree. He took up a career teaching the psychology elective at La Campana boarding school. Part of him has strong hopes that the boarding school's unique purpose will help him come to a final conclusion about himself and his sexuality.
Although Shiloh now accepts himself and feels little shame, he still can't come to terms with what he had done to Delilah. Therefore, he is afraid to commit himself to any real relationship, real or fake. Well, at least he's used to putting on a show. This time however, he'll have a new reason.
Roleplaying Sample: (OOC: This was taking from a role play I did with him where he was employed as a doctor. So, it's kind of AU in a way. Hope that won't be an issue.)
Shiloh Webb found the small tune coming from under his breath slowly deteriorating from a happy use of vocals to a careless whistle. Never a good sign. That little change always meant two things; One, his i-pod was dead and two, he was getting bored. Neither of these were anything he held any joy in at all. Already his mind was getting off track from what was really important. For most people, it wouldn't really matter, considering he was on break, but then again he wasn't "most people". Oh no, nothing was worse than boredom and loneliness.
He had found himself mindlessly wandering about and people watching, another one of the doctors odd little habits. Honestly, sometimes he wondered if he and his patients had something in common. Anyway, his bored eyes rolled over the crowds huddled throughout the hospital. As he moved about, less and less of the groups seemed to wear the mandatory lab coats until it finally struck him that he had wandered into the ER. After passing by the first few beds, he stopped himself and let out an annoyed little huff of air. It lingered with self-irritation and he made a point to try and gain attention out of it. It wouldn't be the first time carelessness led him into a bad area at the wrong time and surely wouldn't be the last. Damn, he really needed a distraction.
A wave of disappointment crashed over him when nobody, not even the frantic families of patients, turned their head to see what his tiny fuss was about. Boring place, boring people, boring day. How awful was that? All he could muster was the urge to loiter about until someone needed him, but a nurse's aggravated glance sent him off with his tail between his legs. She made it quite clear than another human obstacle wasn't exactly appreciated at the moment, much to his disappointment. Shiloh turned around on his heels and practically sulked out. He check the watch on his wrist. Only a few more minutes of doing nothing, then it was to check on the crazies. Thank God.
Today was going to be the day Shiloh faced a reinforcement of a valuable lesson; Careful what you wish for. It was with a dull "thunk" near the lady's room that fate intercepted his mental state. The repetitive footfall fell silent and he came to a quick halt in front of the door of the womens' restroom. A brow raised as he stared at the door, as if waiting for something more to happen. Needless to say, it didn't. The noise had been loud enough for it to be more than someone dropping their purse. "The hell...?" he found himself muttering to no one in particular. Curiosity simmered, then boiled over. Usually, a "thud" in a hospital was not a good sign.
Before he could think, his hand was on the door knob. For a moment, the whole "Ladies' Room" factor dawned on him, but a quick reminder that he wasn't in high school anymore and that he was a doctor soothed the idea. And thank God it did. The door swung upon, Shiloh stopped dead in his tracks, and his eyes widened to their fullest. "Oh, crap," was all he could mutter as he saw the half-dead body on the floor.
It didn't take any years of medical school to do what happened next. Shiloh barely breathed as he darted to her side and instantly took in the details of the scene. The needle, the injuries, it all told exactly what they needed to tell. Everything seemed to be the tell tale sign of a suicide attempt. Enough years in the psychiatric ward left him capable of telling that. What really pissed him off though, was the fact that she was in a hospital gown. How long could she have been here for a doctor not to see the warning signs? Shiloh grit his teeth in rage. Some attending doctor was going to get an earful for this one.
"I need a crash cart in here!" he shouted at the top of his lungs. Within moments, his request was answered. Before he knew it, they had her on a gurney, the drugs flushing out of her system, and they were making a mad attempt at stability. Shiloh had more than enough motivation to help when needed, but most of his attention was directed towards how to greet the girl when she opened her eyes. Honestly, he thought that suicidals were the worst to deal with. It was just all so depressing. And what's worse, they're perfectly sane. He could deal with mental illness, but depression just sucked. Oh well, it was his duty.
Once all that could be done was done, Shiloh slumped exhausted into a nearby chair. The thought to strap the girl down crossed his mind, but he blinked it away. Not yet. She didn't need that kind of stress. Then, that boiling anger he pushed away in the heat of panic spilled over.
"Hey!" he shouted to the ER. Even though he gazed at the ceiling, he could feel the burn of everyone's eyes now staring into him. Good. "Who the hell was the doctor originally attending to this young lady?" He made sure to put emphasis on the "originally". As far as he was concerned, whoever it was wasn't getting control over her case again until he heard a decent enough reason for leaving her alone. After all, in most suicide cases, there are always signs. Ignorance was something Shiloh Webb could barely tolerate.
And thus was the end of the boredom.